SUPERPRO Hydroponics D1-LIT Grow Tent Room Grow Light Lighting Controller
Brand:
SuperPRO
Product Code:
D1-LIT
Reward Points:
0
Availability:
In Stock
The SUPERPRO D1-LIT is designed to control your supplemental HID, Florescent or LED lighting equipment. The D1-LIT is a complete controller that combines the features found in some other products into a single simple product.
The main features of the D1-LIT
24-hour Digital timeclock. The 24-hour digital timeclock features a battery backup that prevents the unit from losing time due to power outages. The 24-hour timeclock also provides a simple method to activate your lighting at a specific time. The user selects the light ON and OFF time and the controller does the rest.
High Temperature Shutdown. Supplemental indoor lighting creates a large amount of heat that must be considered and managed. In the event the temperature inside the growing area gets too hot, the D1-LIT will shut off the lights to ensure the plants to not get damaged by excessive heat due to no ventilation. This feature provides protection against any failure of your cooling devices. This features settings are completely adjustable by the user.
Hot-Start Prevention.The hot-start prevention feature works to ensure the lights that are connected to the D1-LIT will cool down properly if a power interruption / power outage occurs. The timer for the hot-start prevention is adjustable by the user.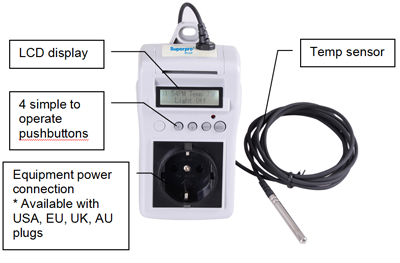 Specifications:
Input Voltage: 240 VAC
Max Amp: 10 amps @ 240 VAC
Max Wattage: 1200W
High Temperature Setting: adjustable 75 to 105 F
Hot Start Prevention Setting: 0 to 20 minutes
Package size: 150 x 100 x 10 mm
Package weight:1 kgs
Package:
1 x SuperPRO D1-LIT Digital Lighting Controller
Product Image:
Write a review
Your Name:
Your Review:
Note: HTML is not translated!
Rating:
Bad
Good
Enter the code in the box below: