SUPERPRO Hydroponics Thermostat D1-TMP Grow Tent Room Temperature Controller
Brand:
SuperPRO
Product Code:
D1-TMP
Reward Points:
0
Availability:
In Stock
The D1-TMP is an extremely accurate temperature controller / thermostat. The unit can be used to control a cooling or a heating device. The unit is easy to use and has many adjustable settings that make it very flexible.
The main features of the D1-TMP
LCD Digital Display: The backlit LCD display allows users to view the current status of the unit and change settings easily. Digital accuracy and separate Day and Night settings provide the user with a very powerful device. Four pushbuttons on the front of the unit are used to access and change the settings.
Remote Humidity Sensor:The humidity sensor is mounted on a 2 meter long cable. The unit uses a very-accurate humidity sensor that can measure a wide range of humidity levels. The sensor can be placed where the user wants to measure the humidity.
Separate Day and Night settings: The photocell on the front of the unit allows the user to select separate Day and Night humidity settings. The photocell will sense the lighting level and activate the correct Day or Night settings.
Memory functions: All of the settings are retained by the unit in non-volatile memory. The unit can record the minimum (MIN) and maximum (MAX) humidity to be recalled by the user.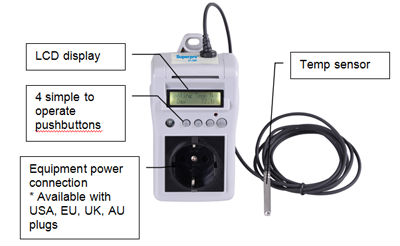 Specifications:
Input Voltage: 240 VAC
Max Amp: 10 amps @ 240 VAC
DAY Humidity Setting: adjustable 32 to 150 F
NIGHT Humidity Setting: adjustable 32 to 150 F
Humidity Remote Probe: 2 meter remote control cable
Package size: 150 x 100 x 10 mm
Package weight:1 kgs
Package:
1 x SuperPRO D1-TMP Digital Temperature Controller
Product Image:
Write a review
Your Name:
Your Review:
Note: HTML is not translated!
Rating:
Bad
Good
Enter the code in the box below: